New guy from Sweden

Topic Author

New guy from Sweden #1

Hello everyone,

I just joined here as I recently bought a 1976 DT 250. Unfortunately I only got to drive a few minutes until the throttle wire broke. I have now found the upper part from Yamaha, but when I opened things up it turned out the previous owner (or rather, someone before him, as he had never driven the bike) had replaced the two part throttle wire with a single one, and disconnected the oil pump cable. Seems common enough. Now I struggle to find a lower part replacement. Perhaps an odd intro, but there you are. Looking forward to learning more from the many experts here. The pic is from the previous owner by the way, I'll post something nicer later.
Claes
Please Log in or Create an account to join the conversation.
24 Jun 2019 04:57
24 Jun 2019 05:13 by

RT325

.
New guy from Sweden #2
Hi, welcome from down in NZ & a nice DT250 you have there & a good model they are too. You say you only drove it for a few minutes so i hope you're running premix fuel. if not, then the broken cable might have save the day for you. If you'd rather keep it on premix then you'll either have to make a new cable or repair the old one if it's re-usable. Otherwise i wonder if there's a cable of an older MX bike with a similar throttle control you could try to adapt because it 'should' be long enough overall from an MX bike that doesn't run a pump. Here's a link below to something similar, but only showing it for a laugh [but not funny] as surely the price has to be a misprint--or what is the world coming to. Sorry, can't help much from here but lots of helpful folk here. On second thoughts, if you're trying to reconnect the pump or just want the junction box & lower throttle cable purely to run the carb only then i'm sure someone here will help shortly. Cheers. Sorry, forgot the link.

New Motion Pro Throttle Cable Yamaha IT175 82-83 IT200 84-86 YZ125 83,85,87,88
Buy It Now
& another expensive option below.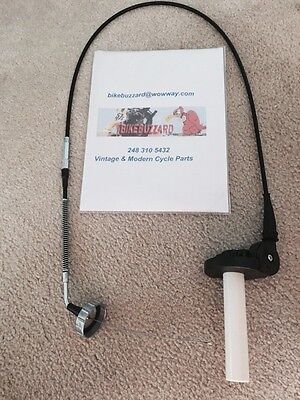 Yamaha YZ MX DT 250 360 400 465 Mikuni 36 / 38mm Carb Top / Throttle & Cable NEW
Buy It Now
& yet again. this one might be more what you're looking for. Doesn't show a good wide pic of the complete assembly but sound ok from top to bottom with oil pump.